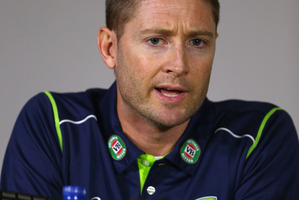 With his leadership credentials questioned after the sacking of coach Mickey Arthur, Australian cricket captain Michael Clarke says there's nothing more he could have done to be with his teammates during the Champions Trophy.
Former test captain Ian Chappell has lashed Clarke after Arthur's dismissal, saying he had serious concerns about the skipper's leadership qualities off the field.
While David Warner and teammates decided to hit the town in Birmingham despite a loss to England, Clarke was holed up in London working on his back injury.
Chappell said Clarke's appearance at a Shane Warne charity event on the day after Warner threw his punch at Joe Root showed he could have taken breaks from his treatment to be there for his teammates at important stages throughout that tumultuous week in Birmingham.
Clarke, who was informed of Cricket Australia's intentions to sack Arthur on Saturday night, admits he considered himself partly accountable for the reasons that led to Arthur losing his job.
But he's defended himself against criticism he should have attended Australia's opening two Champions Trophy matches.
"I did everything in my power to stay with the team even though I wasn't playing but unfortunately, to give myself a chance to be right for the Ashes, I had to go to London and use the machine and have specialist treatment that I've had before," Clarke said.
"It was tough watching the games on TV and talking to the boys on the phone. I would have loved to have been with the group even if I couldn't play."
Clarke was as involved as Arthur in the disciplining of four players over "homeworkgate" in India and the suspension of Warner for his nightclub incident.
Yet Arthur remains the only person in power at Cricket Australia to face the music.
It's a sporting fact that the buck stops with coaches but in cricket captains run teams and must accept at least equal responsibility.
- AAP