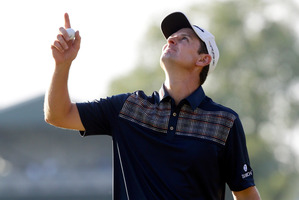 US Open champion Justin Rose withdrew from the US$6.5 million US PGA National today, citing the mental and physical toll on him from winning his first major title and playing last week.
"I'm disappointed to withdraw," Rose said in a statement. "But the last three weeks have been extremely demanding both mentally and physically."
Rose won the event in 2010 when it was staged at Aronimink in Philadelphia, near the Merion course where he won the US Open title on June 16. Rose played last week in the Travelers Championship, where he finished in a share of 13th.
World number one Tiger Woods withdrew from the event last week, a left elbow strain preventing him from defending his title at Congressional Country Club in a tournament operated by, and benefitting, his own charity foundation.
"This tournament has been very good to me - especially in 2010 - and I would play if I felt I could," Rose said. "Tiger and his foundation run a great tournament and I wish I could be there."
On Sunday, Rose admitted to final-round fatigue at the PGA event, where the 32-year-old Englishman began the last day three strokes off the pace but could only manage a par-71.
"I was just a little clumsy when I needed to be sharp," Rose said Sunday. "Having a chance and not being able to kind of finish it out cleanly, that probably shows more fatigue than anything.
"I'm still able to put one foot in front of the other. I think I'm still OK, but I guess it's just that little bit of sharpness that I might be lacking."
After the grind of taking his first major crown by outshooting Phil Mickelson at Merion, the bloom went off Rose when he spent days in New York handling promotional and media requests, including television appearances.
Now Rose looks forward to three weeks off to rest and recover before next month's British Open at Muirfield.
"I'll have time off trying to prepare for the Open championship," he said. "So I'm really looking for those weeks to rebuild any energy. My goal basically for the next few weeks is to make sure I'm sharp and ready for Muirfield."
With Woods also out until the British Open, the spotlight this week falls upon Australians Adam Scott, the reigning Masters champion, and Jason Day, who shared second at the US Open for his fourth top-three effort in the past 10 majors. Day's only US PGA title came at the 2010 Byron Nelson Championship.
The field of 132 players at the par-71 suburban Washington layout where Rory McIlroy won the 2011 US Open also includes eighth-ranked American Brandt Snedeker, who won last year's US PGA playoff crown.
- AFP