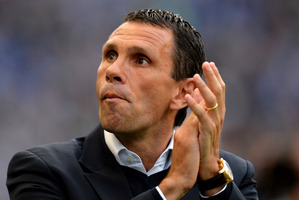 English championship club Brighton and Hove Albion sacked manager Gus Poyet yesterday - and the Uruguayan only learned the news on live TV.
Poyet was informed of his dismissal by the BBC while he was appearing as a TV pundit on the coverage of the Confederations Cup.
"I think the BBC got a great story forever really because a manager getting the information that he's been released from his employment during the time of a programme is quite surprising," the 45-year-old Poyet said.
He confirmed he would appeal the decision. Brighton had announced the sacking, which had not been unexpected, on their Twitter feed.
The Uruguayan was suspended last month for an alleged breach of contract, and looked odds-on to be dismissed when he failed to appear before a club disciplinary hearing last week.
Poyet attended a re-convened hearing last Friday aimed at resolving his differences with club chairman Tony Bloom.
The club statement on TV said: "Gus Poyet has been informed today by Brighton & Hove Albion Football Club's internal disciplinary panel that his employment has been terminated with immediate effect."
Newspaper reports in England last week suggested Brighton had already lined up the former Maccabi Tel Aviv manager Oscar Garcia as Poyet's replacement. Garcia, a 40-year-old Spaniard, played for Barcelona and coached their youth team for two seasons, joining Maccabi last May for his first senior management job, but later resigning for personal reasons. Poyet, linked with the vacant managerial chair at relegated Wigan Athletic, recently came under fire for his managerial style.
Spanish full back Vicente, who was released by Brighton, blasted Poyet as "the worst person I've come across in football".
- AFP