Wimbledon glamour girls in fragile truce after Williams apology but Sharapova will look to answer on court.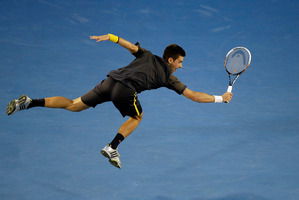 The Wimbledon tennis championships began last night, yet two of the biggest stars of the women's game have already been engaged in a fiercely competitive rally - of insults, rather than shots.
Before they meet on court, the two pre-eminent talents in women's tennis appear to have reserved their most compelling hostilities for the All England Club press room.
Serena Williams and Maria Sharapova have traded salvos in a row that captures not only their mutual antipathy, but also their disapproval of the other's boyfriends.
Williams sought yesterday to broker a fragile truce, claiming she had "never intended" to drag Sharapova into the unseemly contretemps, a little too late given her incendiary remarks to Rolling Stone magazine.
Castigating an unnamed player, universally agreed to be her Russian rival, the American said: "She's still not going to be invited to the cool parties. And, hey, if she wants to be with the guy with a black heart, go for it."
Close your eyes and you could almost picture the formidable Serena brandishing her designer handbag at 10 paces, ready to plunge her painted nails into the honeyed siren from Siberia.
The dark-hearted gentleman is the Bulgarian player Grigor Dimitrov, Williams' ex-boyfriend, whom Sharapova has been dating since her split from the basketball player Sasha Vujacic.
An affronted Sharapova returned fire, casting aspersions upon Williams' rumoured liaison with coach Patrick Mouratoglou, who has given no indication his own marriage has ended. "If she wants to talk about something personal, maybe she should talk about her relationship with her coach who was married, who is getting a divorce and has kids," she shot back, witheringly.
So Williams, striding into a packed auditorium for her pre-tournament press conference, had two choices. Either she retreated into streetfighter mode, cultivated in her native Compton, the notoriously tough suburb of Los Angeles, or she attempted a little emollience.
She took the gentler option, maintaining that she had drawn her adversary into such caustic exchanges "inadvertently", even taking the trouble to give us the full wording of her apology to Sharapova at the players' party last Thursday night.
"I talked to Maria," she disclosed. "I said, 'Look I want to apologise to you personally if you are offended by being brought into my situation. I want to take this moment just to pour out, be open, and say that I'm very sorry for this whole situation'."
But there was, tellingly, no suggestion that her contrition had been accepted. Asked whether Sharapova had scorned the olive branch, Williams replied vaguely that they always had "great conversations".
It was an implausible statement about two women as far apart in personality as they are in background, and who, it is believed, can scarcely bear to be in the same postcode as one another.
Their barbed remarks create an engrossing subtext, enlivening a women's draw sorely in need of a dose of drama. The roles are clearly cast: Williams as the destructive alpha female, aiming to seize a 16th Grand Slam title and to sustain an astonishing streak of 77 victories in her past 80 matches; Sharapova as the demure challenger, forever Wimbledon's beloved blonde after her triumph, aged 17, in 2004.
For all the charm offensive from Williams, Sharapova is unlikely to be placated easily. For the Russian, victory at Wimbledon would be the sweetest riposte.