Sharapova and Williams swap jibes about each other's love lives in a feud likely to dominate Wimbledon.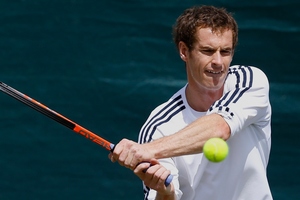 Would the All England Club consider placing Lord Kitchener-style posters around its gates this fortnight? As Andy Murray prepares to chase his destiny once again on the lawns of Wimbledon, the message to every British fan should be "Your country needs you!"
For evidence, just rewind to the two finals Murray played against Roger Federer last northern summer. As they contested the silver-gilt trophy of the Championships, the roof came over, and the atmosphere inside the translucent pleasure-dome of Centre Court was fair-minded to a fault.
But then, four weeks later, the prim and proper Wimbledon habitues were turfed out of their seats by an unruly horde. Now the Rule Britannia spirit of the London Olympics came through clear and very loud. John McEnroe said last week that "in a way it sort of bothered and annoyed Federer because he never experienced that, as far as I know, that people were actually against him".
So what did the support of that boisterous Olympic crowd mean to Murray? And how much would he appreciate a little more partisanship during his home grand slam?
When the question came up he first tried to be tactful, saying that "they pay, they buy the tickets, they can support and do whatever they want with them".
At the same time, though, he could not escape the fact that the members of a sporting event are not just observers of a drama; they are participants, too. Yes, even at staid old Wimbledon. And how they respond to the actors will affect the way the storyline unfolds.
"I just know how much help it is to play when the crowd is ..." Murray began, before clarifying himself. "I just find when they're extremely noisy and vocal, that helps me and I've enjoyed playing in those atmospheres my whole career.
"Any tennis player - myself included - if you are playing in France against a French player and the whole crowd's behind them, yeah, it isn't easy. It helps the player the crowd is behind and that goes for every single sport. I've said it many times: that's why it's a lot harder for Barcelona to win against Man United at Old Trafford and why Man United find it harder to win against Barcelona at the Nou Camp.
"The Olympics were always going to be different. There were so many flags and stuff and colours in the crowd. Even when we turned up a few days before the start, it just had a different feel to it."
Admittedly, Murray has never been as natural a fit for the demure surroundings of the All England Club as his friend and one-time mentor Tim Henman. The fact that we still hear plaintive cries of "C'mon Tim" on Centre Court does touch on that underlying truth, even if they are more likely to inspire groans these days than laughter.
Where Henman always looked a clubbable sort of chap, as smartly turned out as a boarding-school prefect, the young Murray was scruffy, surly, sweary. He hunched over when he walked and let his hair grow into a white man's afro. He looked, in short, like a man with a grievance against the world.
Yet all that is changing. Yes, Murray might still have the odd mini-tantrum on the court after a break point has gone begging. But these blips are ever rarer and more restrained.
For the most part, he now cuts a commanding and authoritative figure, holding his shoulders square and his head high. Watching him dismantle a series of fine grass-court players at Queen's Club a week ago - Nicolas Mahut, Jo-Wilfried Tsonga, and Marin Cilic - he looked like a man who believes his time has come. A man ready to fulfil all that early promise.