Hansen taking hands-off approach ahead of playoffs and Rugby Championship.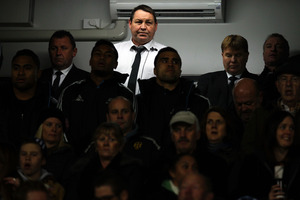 Wallabies coach Robbie Deans has his issues but at least he won't be losing any sleep about the way the All Blacks finished the three-test series against France.
Saturday night's match in New Plymouth had a first-test feel about it, something All Black coach Steve Hansen acknowledged yesterday.
His five selection changes to the team so convincing in last weekend's 30-0 victory in Christchurch played a big part in that but it felt like there was something missing.
Hansen was disappointed by several things - the many unforced errors, the way some of his players didn't respond to the challenge - but overall was satisfied with the way things turned out.
"We said at the start we had to take risks," Hansen said. "We probably created, through selections, two first-tests to this series. We could have easily had continuity and gone for another really convincing progress from Christchurch but that wouldn't have achieved what we needed to achieve.
"The three-match series has been really good for us," he added. "We've got some clear answers to some of the questions we've had. We'll watch a bit of form over the next few weeks. The important thing is some of the questions have been answered. Some of them positively and some of them negatively."
Dan Carter, back from a hand injury, was rusty outside a misfiring Piri Weepu and even Kieran Read was affected by a malaise which manifested itself in regular knock-ons. The lack of momentum, caused in part by the willingness of the French to make life difficult, became a vicious circle.
"Reado probably didn't have his greatest game and he'll learn from that," Hansen said. "Clearly there were a lot of unforced errors."
His players will return to the Super 15 this week with feet back on the ground and that is probably a good thing.
Hansen has paved the way for their return in a phone conference with the five New Zealand Super 15 coaches and now can only hope his men remain healthy for the first Rugby Championship test against the Wallabies on August 17.
Discussed were the physical and skills programmes for his returning players but the rest is up to Sir John Kirwan, Dave Rennie, Mark Hammett, Todd Blackadder and Jamie Joseph.
"We won't go down the road of telling them who to pick or where to play them, that's up to them. Obviously one or two of them aren't going to go much further [in the competition] and there's others who are really striving to go all the way. Each team has its own problems or issues to deal with and we just wish them luck."
For the Rugby Championship, Hansen will name a squad of 28, plus a wider training trio for a total of 31. Richie McCaw will return from his break, with Matt Todd, Jeremy Thrush and Francis Saili among the players likely to drop out.
The positives for Hansen were a three-test sweep and the way he has introduced his new players to the team. There were only limited opportunities in New Plymouth for Todd, Charles Piutau and Steven Luatua but they've joined an exclusive club and will be better for the experience.
"Under pressure, I thought in the last 20 minutes they really stood up again and you just saw the momentum change," Hansen said of his players. "Defensively we started to make big hits, we started to carry the ball better and finished on top."
Hansen said the main aim of his new game plan was for his team to be become less predictable, but his players let themselves down.
"[The] running lines I thought were pretty shoddy, pretty lateral. We got too wide in some of our first receiver plays with our forwards but they're fixable things - just time together will fix those."
All Blacks (Ben Smith, Beauden Barrett tries; Dan Carter 4 pens, con).
France (Jean-Marc Doussain 2 pens, Florian Fritz dg). Halftime: 8-6.
All Blacks 24
France 9