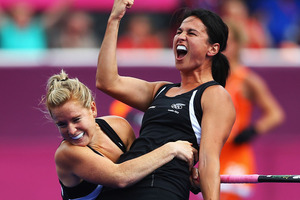 Black Sticks captain Kayla Sharland received some personal compensation at hockey's World League tournament in Rotterdam yesterday.
Sharland was named player of the tournament, in which New Zealand were beaten in their third-fourth playoff by Korea.
She scored three goals in the tournament, but her general play through the middle of the park was key to New Zealand's game.
In the playoff, the scores were level 3-3 at the end of regulation time, but the Koreans won a dramatic penalty shootout 3-2, a result which enabled them to advance to the World Cup in The Hague next June.
World No 3 New Zealand must try to progress by winning the Oceania qualifier in Taranaki in October.
Penalty shootouts were the order of finals day.
World No 5 Germany stunned the Olympic champions and world No 1 the Netherlands to win a shootout 4-3, after having equalised with 70 seconds left in the game, which finished 1-1.