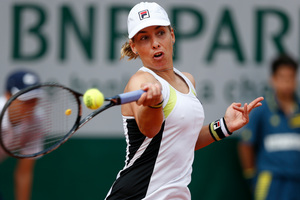 Marina Erakovic looks back on her triumph at Memphis' United States National Indoor Tennis Championships in February as the seminal moment in her career.
Not only did it make her the first Kiwi to claim a WTA title for 24 years, but she has gleaned confidence from the energy she has invested over more than eight seasons in the professional ranks.
With Sabine Lisicki retiring ill after losing the first set 6-1, Erakovic went on to accomplish something last achieved by Belinda Cordwell at Singapore in 1989.
At the time Erakovic said: "If paying your dues is putting all the hours in on the tennis court, getting injured and going back at it again, then I've definitely paid my dues. I just like playing tennis. It's not always fun and it's not always great, and it doesn't always work out the way you want it to, but when you win tight matches or win titles, it's all worthwhile."
Speaking to the Weekend Herald as she prepares for Wimbledon on Monday, the world No 71 cast her mind back to when she was presented with the trophy of a miniature guitar at Memphis - in homage to Elvis - and appropriate given her own passion for playing the instrument.
It wasn't so much the trophy but the previous tournament winners that changed Erakovic's thinking about her game.
"It was my third final and I managed to win it. Even now I know I'm still playing some of my best tennis. Seeing my name engraved where the likes of Lindsay Davenport and Maria Sharapova had been before, I thought: I can play, I can really play."
Also on that trophy twice is the name Monica Seles.
"She was my idol growing up," Erakovic says. "I remember when she and Martina Navratilova played an exhibition in Auckland [in 2005]. I got to hit with them.
"Monica said: 'Marina, you've got a great offensive game, always hit your forehand with aggression. That has stuck with me all these years."
At the time Seles said Erakovic "reminded me of when I started playing tennis. The next few years are critical in terms of her development. She seemed to be a really hard worker".
Erakovic's latest doubles partner Cara Black has been more teammate and mentor than idol. Black has won five women's Grand Slam doubles titles - including three at Wimbledon - over a career going back to 1998.
The 34-year-old gave birth to her first child last April but has returned to doubles form on court. The pair are ranked 11th at SW19, having enjoyed a record which included finals appearances at Madrid, Strasbourg and Birmingham. They also made the French Open quarter-finals.
Black has helped Erakovic reach her highest doubles world ranking of 26 when the list came out Monday.
"She is enjoying motherhood with her little boy and balancing that with the enjoyment of playing," Erakovich said. "It is not easy but she is an amazing professional."
The draw for Wimbledon took place overnight.