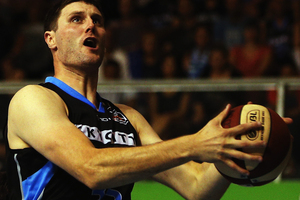 Breakers and Tall Blacks centre Alex Pledger is set to spend another off-season improving his game by learning from Australia's best.
After working with three-time NBA champion Luc Longley in 2012, Pledger will next month head across the ditch to enjoy tutelage from former NBA No 1 draft pick Andrew Bogut.
While Longley, at 43, was long retired when Pledger picked his brain, Bogut is coming off perhaps his best season in the world's premier basketball league. The 28-year-old centre played an integral role as his Golden State Warriors made an unlikely run to the western conference semifinals before being beaten by San Antonio.
Bogut capped off a resurgent regular season, in which he established himself in the top tier of centres in the league, by being the leading rebounder in three of the six games against the Spurs.
And with his game set for bigger and better things, Pledger has been granted the rare privilege of being able to bang bodies against someone who knows the intricacies of the centre position better than most.
It's all part of the continuing development of Pledger as a big man, a development which will first profit the Tall Blacks at the Oceania Championships in August, before the Breakers reap the benefits in their quest for a fourth successive title.
''[Bogut] is probably rated as a top-five centre in the league right now and he's obviously coming off a pretty good playoff campaign,'' Breakers coach Dean Vickerman said. "And for Alex to go against that level right now, I think he can pick up a lot of knowledge.''
Having clinched their third title, the Breakers sat down with all contracted players to discuss avenues for advancing their individual games. For Pledger, who had just signed for Bogut's management company, that avenue was obvious.
"He's definitely a player in the NBA that I follow,'' Pledger said. "There's not many players in the NBA from this part of the world, so he's definitely someone that I think a lot of us down in Australia and New Zealand keep an eye on to see how his team's going.
"I've played against NBA players before but he's a former No 1 pick and a starter. He's had his injury problems the last year or two but before that he was on the verge of being an All-Star. So that's how you truly compare yourself and find out your true strengths and weaknesses and what you need to work on.''
Pledger leaves for Melbourne on July 9 and will spend four days and four sessions matching up against Bogut. He was unsure of the exact nature of the workouts, given Bogut has recently concluded a gruelling season, but Vickerman was certain of what his charge could learn.
"On the court, Andrew does a great job of body positioning, and I think there's a few techniques that we can pick up,'' Vickerman said. "Andrew's huge into his strength and conditioning, and I think there's some areas there off the court that we can improve Alex on as well. And just understanding what his recovery methods are in the NBA - with 82 games they need to be the best in the world at doing it. So I think there's just a whole range of things we can pick up.''
- APNZ