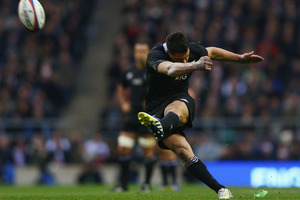 Tracey Nelson crunches the numbers ahead of the third test between the All Blacks and France where Dan Carter is set to pass a points milestone thought unimaginable a decade ago.
This will be just the third test match played at Yarrow Stadium, New Plymouth. The All Blacks have won both previous tests (Samoa 101-14, and Ireland 66-28) and scored 24 tries in the process.
If the All Blacks win this weekend it will be their seventh consecutive win against France, and will match the record they set between 2003 and 2007. It will also be their 26th consecutive test match win on New Zealand soil.
If France lose this weekend it will drop Thierry Dusautoir to a 50 percent winning record as their captain. France have won just four of their last 10 test matches.
Last week's test was the first time that France has failed to score any points against the All Blacks, while for the All Blacks it was the 22nd consecutive match they have scored a try against France.
The All Blacks starting XV has a total of 620 test caps compared to France's 278. The most experienced All Black in that starting XV is Dan Carter with 94 caps, while for France it is Nicolas Mas with 62.
Matt Todd, Steven Luatua and Charles Piutau are all set to make their test debuts off the bench this weekend, while Eddy Ben Arous can make his debut for France also off the bench.
Conrad Smith has appeared in both previous test matches played in New Plymouth, and scored two tries on each occasion.
Carter needs 15 points to become the first player to score 1,400 test points. If he kicks four penalty goals he will equal Neil Jenkins' (Wales) record of 248 test match penalties, which will place him second behind Jonny Wilkinson who kicked 255 test penalties during his career.
When Carter began his career Andrew Mehrtens held the All Blacks record of 967 after passing previous holder Grant Fox. Fox's career tally of 645 is less than half of Carter's total..
Referee Nigel Owens (Wales) will be refereeing his 47th test match, but surprisingly it is the first time he has controlled a New Zealand v France match. Owens has officiated in 10 All Black test matches, with the All Blacks winning eight and losing two - one of which was a home test match against South Africa in Hamilton, 2009.