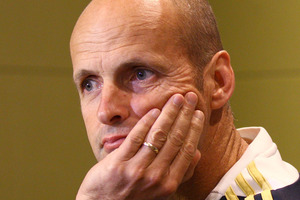 South Africa cricket coach Gary Kirsten admitted his team deserved the tag of chokers after crashing to a seven-wicket defeat by England in the Champions Trophy semifinal.
"We need to be honest with ourselves. I think we did choke again today," Kirsten said after the disappointing one-sided game at the Oval that lifted England into their second Champions Trophy final.
"It's a horrible word but we have to front up. We let ourselves down today."
It was the first time a South African coach publicly accepted what is widely believed in the rest of the cricket world - that the Proteas falter in crunch games.
South Africa, top-ranked in tests and formidable opponents in world cricket, have struggled to get past the semifinal stage in major one-day tournaments since winning the inaugural version of the Champions Trophy in Bangladesh in 1998.
Kirsten, the former South African opener who ends his two-year term as coach with Wednesday's match, said he had expected his team to perform better in the semifinal.
"To be blown away with the bat with the quality of batsmen we've got in our batting line-up is very disappointing.
"There has definitely been an inconsis-tency to our cricket. When we play in big tournaments like this, we do get exposed."
Kirsten, who coached India to victory in the 2011 World Cup before moving back to South Africa, said he shared the blame.
"We certainly have not improved, and that is where a question mark needs to come over me. So maybe it's a good decision that I'm leaving."
England's Alastair Cook, meanwhile, was confident his team could win Sunday's final at Edgbaston against the winners of the all-Asian semifinal between India and Sri Lanka in Cardiff.
"We can win it, without a doubt," the England captain said.
- AFP