Towering Jhaniele Fowler one of the principal reasons behind team's turnaround this year.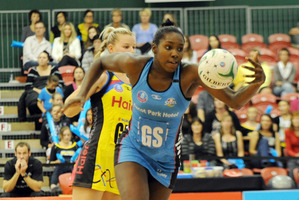 In a major coup, the Southern Steel look to have secured prolific netball shooter Jhaniele Fowler for next season.
The Jamaican has been targeted by several other teams, with particular interest from across the Tasman, but is understood to have elected to stay with the Southern franchise.
The 23-year-old has had a sensational debut campaign, arguably the best rookie season in the history of the ANZ Championship.
With one match still to play, Fowler has scored 606 goals (at a success rate of 93.5 per cent), smashing the previous season record of 574 set by Carla Borrego in 2010.
Fowler also set a new goal-scoring record in a single match (65 versus the Tactix in round three) and has averaged more than 50 goals a game in the season. She is often compared to compatriot Romelda Aiken but has adapted to the ANZ Championship much quicker than the Firebirds star.
While the Steel have recruited well in other areas, it can't be denied that Fowler is one of the principal reasons for their turnaround in 2013. They have won six games this year and were contenders for the top four for much of the season, after finishing a disappointing ninth (just two victories from 13 games) in 2012.
Most teams have struggled to shut down the Jamaican and she has provided a constant headache for opposition fans and coaches. While there is an understandable preoccupation with her height (at 1.98m she is the tallest player in the league), Fowler has remarkable agility, moves well and is a powerful presence within the circle.
New Zealand and Australian franchises have shown significant interest in her but ultimately it seems she has decided to stay loyal to the team that offered her a chance in the ANZ Championship.
Fowler came to international prominence at the 2011 World Championships in Singapore. Her potential was obvious but she struggled to make an impact and the Jamaicans were soundly beaten by Australia in the semifinals. She has been a regular for the Sunshine Girls since then and was prominent at the Fast5 competition in Auckland last year.
Despite having to adjust to a totally different climate, and being away from her partner and 3-year-old daughter who remained in Jamaica, she has barely put a foot wrong this season.
Fowler had a limited pre-season, not arriving in New Zealand until late January, but was quick to adjust to the pace of the game in the Southern Hemisphere and the structures and game plan at the Steel.
The Steel's final game is against the Pulse this Sunday.