Christchurch represented base camp as Hansen's side seeks near perfection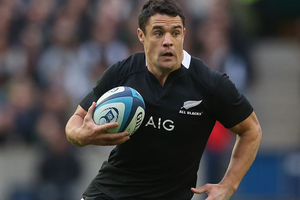 Victory, a collective performance upgrade across the board and promising debut efforts from the three uncapped bench men would be the ideal outcome for the All Blacks in New Plymouth.
Given that France lie in wait this November when they will no doubt be a different beast again, an emphatic destruction of their notoriously frail psyche, while not a high priority objective, would be a handy additional outcome.
It's the performance goal that is of most importance. As much as the All Blacks impressed in Christchurch, they didn't use as much of their weaponry as they intended. Their kicking game struck gold and realising they were on to a good thing, they kept plugging the ball behind the French.
It was effective - it won them the game - but in the usual, heavy post-match analysis, it became clear to players and coaching staff that the All Black running game was perhaps neglected.
What this final encounter with France has, therefore, become largely about is conducting a happy marriage between kick and chase and pass and run. The return of Daniel Carter at first-five won't bring automatic improvement as such, for Aaron Cruden played well last week.
But what it does do is bring more experience, vision and understanding to the key decision-making role, that will potentially allow the All Blacks to more successfully intertwine the various components of their game.
The All Blacks are striving to become truly multi-faceted: a side that can adapt to any weather and any opponent; that can dip their hand into the hat and pull out any particular rabbit of their choosing.
If total rugby is to become their thing - much like the Dutch used to play total football - then the All Blacks realise that they share much in common with mountaineers: each test they must establish a new base camp for performance; each test they must advance that little bit further, dig their toes in and drag themselves to a higher point.
If they keep advancing, refuse to let their standards drop, then eventually they will reach the mythical summit of the perfect performance.
"What really pleased me [about the 30-0 win in the second test] was that our kicking game became part of our extended game-plan," said All Black coach Steve Hansen.
"Rugby is all about space - you have to go forward and find the space and you either find it by running into it, passing the ball into it or kicking into it. It's just about continuing do that well.
"I don't think France will give us the backfield as easily as they did last time. If we can integrate our running game and kicking game and take the right options at the right time, I'll be really pleased."
Hansen will be even more pleased if the All Blacks are able to establish their rhythm and dominance early to create a safe window to inject Steven Luatua and Charles Piutau, maybe even Matt Todd as well, from the bench. The former two are viewed as players of considerable promise - strong candidates to be long-term All Blacks.
But for all that they have impressed for the New Zealand Under-20s, Auckland and the Blues along the way and look the part, there's always that element of uncertainty until they are on the field confronted with the pressure and intensity of the test arena.
Saturday won't provide definitive answers on those two but it should, hopefully, provide reassurances that all the tangible data and gut instinct that led Hansen to select Luatua and Piutau was accurate.