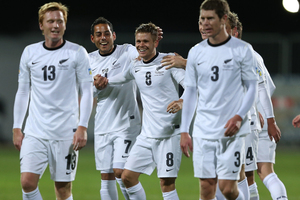 The All Whites look destined to play either Honduras or Panama in their crucial intercontinental playoff for a place at next year's World Cup in Brazil but they will be keeping a watchful eye on Mexico's progress.
New Zealand, as winners of Oceania, will take on the fourth-placed side from Central and North America in a home and away playoff in November.
Each team in the North and Central American confederation have played six games, with four remaining, and the US lead with 13 points from Costa Rica (11) and Mexico (8).
Honduras sits in fourth with seven points, Panama have six and Jamaica appear to be out of the running with only two points from six games.
The All Whites will want to avoid the US and Mexico, the traditional powerhouses of Concacaf football, and Costa Rica are also an extremely difficult proposition, especially at home.
They won't know who they are playing until closer to the final round on October 15, which is only one month before the first intercontinental playoff on November 15. An announcement is due soon on where the second playoff match will be held on November 19, with Wellington the favourite.
Mexico, who are ranked 17 in the world, are dangerously close to fourth and have a tough run-in with games against Honduras (H), the US (A), Panama (H) and Costa Rica (A).
There is an expectation Los Tricolores will qualify for their 15th World Cup _ they have made the last 16 at the last five World Cups _ and the All Whites will hope this proves true. They haven't lost a game in the fourth round of qualifying but have scored only three goals in their six games which has translated to one win and five draws.
The game between Honduras and Panama, due to be played in Honduras, will carry extra significance but they also meet Mexico (A), Costa Rica (H) and Jamaica (A).
Panama are due to meet Jamaica (H), Honduras (A), Mexico (A) and the US (H).
The Run in:
USA (13 points): Costa Rica (A), Mexico (H), Jamaica (H), Panama (A)
Costa Rica (11 pts): USA (H), Jamaica (A), Honduras (A), Mexico (H)
Mexico (8 pts): Honduras (H), USA (A), Panama (H), Costa Rica (A)
Honduras (7 pts): Mexico (A), Panama (H), Costa Rica (A), Jamaica (H)
Panama (6 pts): Jamaica (H), Honduras (A), Mexico (A), USA (H)
Jamaica (2 pts): Panama (A), Costa Rica (H), USA (A), Honduras (H)
- APNZ