Exclusive: Taekwando rep says his family friendship with accused man aroused police suspicions.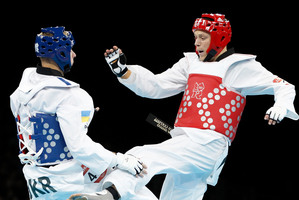 An Olympic athlete was given a formal warning by police investigating an international drug ring but New Zealand sports officials had no choice but to select him when charges were not laid.
Logan Campbell represented New Zealand at the Beijing and London Olympics in the martial art of taekwondo, but is best known for owning a brothel to finance his sporting goals.
He sold the escort agency after coming under pressure from Taekwondo New Zealand but the organisation had concerns about selecting him for the London games after his name surfaced in a drug investigation.
No charges were laid and Campbell, who also uses the first name Kismet, told the Herald his house was searched as part of an investigation into a drug importation ring, but nothing was found.
Campbell is friends with Brian Read, who will be sentenced this month after being convicted of importing pseudoephedrine - the main ingredient in methamphetamine - from Thailand and participating in an organised criminal group.
Campbell said it was this friendship that aroused suspicion.
"If I had something to do with it, I would have been charged or something. But [Read] was a really good family friend of mine, my dad's, and I think it's just because we had quite a lot of contact. You know, he was helping fix up an old car of mine at the time."
Court documents obtained by the Herald showed that Campbell employed a teenage boy at the Avondale Markets on the weekend.
The 16-year-old gave a statement to police and was supposed to give evidence for the Crown against Brian Read.
Campbell told the Herald he had no idea why his employee's statement was on the court file.
"The only legal problem was that my house was searched, but they found nothing. I had nothing to do with anything and that was it."
In October 2011, Brian Read and his brother Gary were among those arrested by the Organised and Financial Crime Agency.
Soon afterwards, the 16-year-old told police that Campbell said to him: "My mate just got into a bit of trouble by the police."
Police executed a search warrant on Campbell's home and interviewed his father and girlfriend.
Detectives also asked to interview Campbell but he refused and also declined to be a witness for the Crown.
The teenager was scheduled to give evidence for the Crown against Brian Read at his recent trial in the High Court at Rotorua but police were unable to locate him.
Two charges of importing pseudoephedrine against Brian Read were withdrawn as a result.
No charges were laid against Campbell. Detective Sergeant Mark Osbourne said this was because the Operation Argon team wanted to focus on the main target, who was Gary Read.
But Mr Osbourne said Campbell was formally warned by police.
Police also notified the high-performance manager of the national taekwondo team, Michael Hannah, who is also a senior police officer in Taranaki.
When contacted by the Herald, Mr Hannah deferred all comment to the secretary-general of Taekwondo New Zealand, Matt Ransom.
Mr Ransom, who with Mr Hannah is a member of the New Zealand Martial Arts Hall of Fame, said: "In November 2011, Taekwondo New Zealand became aware that the police had searched the home of one of our athletes, Logan Campbell, as part of a police investigation.
"Following inquiries, we were advised that Logan had not been charged with any offence.
"We advised the New Zealand Olympic Committee of what had occurred and adopted a wait-and-see approach to this matter. Logan was required to keep us fully informed if any charges were laid against him or should any other matters arise from the police investigation that could affect his ability to represent New Zealand in taekwondo.
"To the best of our knowledge, Logan has not been charged with any offence. However, we will be looking to meet with Logan to more fully understand what was said in the court proceedings and whether that impacts in any way on his future career.
"Until those discussions have taken place, it would be unfair to comment further."
Taekwondo officials told NZOC about the issue, but based on selection criteria, Campbell's nomination was endorsed.
The NZOC said it was aware there could be a "legal issue" with Campbell before the Games, but had no option but to select him.
"We were not aware of any specific allegations against Logan," said NZOC secretary-general Kereyn Smith.
"Taekwondo had advised us in confidence that there was a potential legal issue that could impact his nomination.
"We were subsequently advised that Logan was not being charged with any offence and, as such, the matter went no further."
She said the NZOC was concerned to hear there may have been a legal issue but was advised he was not facing any action.
Campbell said he was still involved with the sport of taekwondo but was not representing New Zealand at the moment.


Logan Campbell
• Aged 27.
• Represented New Zealand at the Beijing and London Olympics in the martial art of taekwondo. He did not get into the medal rounds.
• He is New Zealand's 1007th Olympian.
• Hit the headlines in 2009 when he opened a brothel with the intention of it financing his 2012 Olympic dream.
• The NZOC threatened Campbell with legal action if he linked the business with the Olympics.