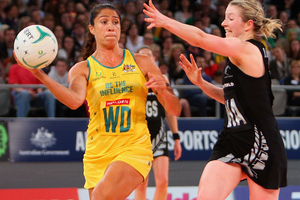 Australian Diamonds defender Mo'onia Gerrard will put her netball career on hold as she targets a place in the Australian rugby sevens team for the 2016 Olympic Games.
This weekend the 32-year-old will play her last game of netball this season for the NSW Swifts, who are out of the running for the playoffs in the ANZ Championship, before switching her attention to rugby.
It's something she's contemplated for some time and Gerrard confirmed her plans to the Swifts earlier this month.
"It's no secret that I've had an ambition to play rugby sevens, hoping to represent Australia at the Olympics,''Gerrard said. "To give myself the best chance of succeeding, I feel it's important I commit fully to a rugby programme and that's why I've decided to take this break from netball.''
The veteran of 68 tests has assured NSW Swifts supporters she's not retiring, merely taking a break from the on-court action.
"I'm certainly not retiring and it's not something I've ever considered. I'm simply putting my playing career on hold for a season.
"You can't get rid of me that easy,'' joked Gerrard. "I'll continue my community work with the Netball NSW sports development department.''