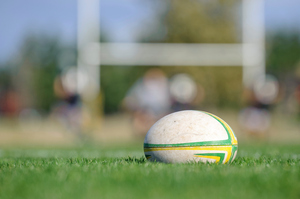 Wanganui High School has handed one of its rugby players a season ban for repeated punching during an under-16 game on Saturday.
The Wanganui Rugby Union has also found the player guilty of violent conduct and imposed its own two-match suspension.
The disciplinary action follows Saturday's game against Palmerston North High School which was marked by fights and the sending-off of a Wanganui player.
The school imposed a season ban, but it will be reviewed if the player completes an associate referee programme delivered by the Referees Association.
Wanganui High School deputy principal and rugby spokesman Chris Friedel said a restorative justice approach had been adopted.
"We needed time to conduct an investigation. We have imposed a season ban on the young gentleman and ordered him to do the referee's course," Mr Friedel said.
"If we are satisfied he has completed the course, the season ban will be reviewed - the win-win then will be that we have another qualified referee and the young man will have learned about his mistake.
"While the season ban may appear harsh, we need the young man to understand what he has done. We just couldn't let it lie."
Rugby union administrator John Phillips confirmed the union's penalty and said he could not recall a ban of this nature in schoolboy rugby.
The under-16 game was called off early on Saturday after trouble broke out.
Mr Friedel said it appeared WHS was about to attempt a penalty conversion when a fight broke out between an opposition player and a high school player.
"Others jumped into the fray, including this young gentleman. I must commend the two coaches - they got together and between them decided to call the match off early to stop any further problems," Mr Friedel said.
For more articles from this region, go to Wanganui Chronicle