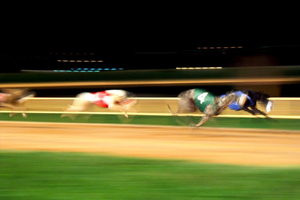 The inclement weather throughout the South Island has forced the hand of racing authorities, with contingency plans in place across the codes.
The Otago Greyhound Racing Club's meeting in Dunedin yesterday was abandoned after flooding caused road closures around Otago, following the abandonment of the Oamaru races, which was to have been held tomorrow.
There is doubt over the thoroughbred meeting at Riccarton on Saturday, and New Zealand Thoroughbred Racing has already taken steps to fill the potential gap on Saturday.
New Zealand Thoroughbred Racing general manager racing and operations David Jewell said the Otaki-Maori club's meeting at Trentham on Friday had been moved to Saturday as a contingency to ensure two domestic thoroughbred meetings on Saturday.
"NZTR in consultation with RACE has transferred the Otaki-Maori meeting at Trentham from Friday to Saturday with the meeting upgraded to feature stakes," he said.
The status of the Forbury Park Trotting Club meeting in Dunedin tomorrow night is dependent on several factors.
Harness Racing New Zealand racing manager Darrin Williams said the weather would play a large part in when the meeting could be rescheduled to if tomorrow night's meeting is put off.
A move to a Saturday day fixture would be put in place if Riccarton's Saturday meeting was abandoned. Riccarton had received 122mm of rain between Sunday morning and yesterday morning, although Christchurch enjoyed fine weather at times yesterday.
"This decision is based purely on attempting to give the meeting every possible chance to go ahead," Williams said. "Should the Canterbury Jockey Club meeting proceed as scheduled this Saturday it is likely that the fate of the Forbury Park Trotting Club's meeting would then be weather-dependent."
A decision on Riccarton and subsequently Forbury Park will be made by early this afternoon, a New Zealand Racing Board spokesman said.
The two-day harness meeting at Blenheim on Friday and Sunday could also be under threat, after the forecast of snow and access issues for Canterbury trainers.
A back-up plan could see the two-day meeting switch to Sunday and Tuesday.
Additional races are likely to be added to the programmes for Waimate's meeting on June 28 and the Ashburton meeting on July 5 to counter the loss of the abandoned Oamaru meeting and the possible loss of Riccarton.