Coach says still room for improvement - even after sublime effort in Christchurch.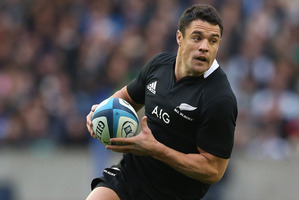 Dan Carter's return to rugby on Saturday will coincide with an expectation that his backline reaches even greater heights in the third test against France in New Plymouth.
Many believe the All Blacks executed their game plan perfectly in the 30-0 victory in Christchurch on Saturday. The clever kicks into space topped off by two brilliant counter-attacking tries in the second half amounted to a demolition job in a city well used to them in recent years.
But backs coach Ian Foster said they were a long way off what he called an "integrated" game plan which featured the perfect balance of kicking for territory and running the ball.
The onus will be on Carter, who missed the first two tests with a cracked bone in his right hand, to set the standard, something the 31-year-old has been good at in the past, even if it might be a little tough on Aaron Cruden, who had one of his best games on Saturday.
"What we're trying to do is integrate both of them," Foster said of the kick/run tactics. "It's not our goal just to do one or the other, it's to do both and I was really impressed with the decision making of our 9 and 10 and 15 last week in terms of when to kick."
"It's exciting where we got to, don't get me wrong ... but we're fully aware that there's still plenty of potential to get smarter and better at how we see that space."
Ben Smith has also been signalled as a good chance to take Conrad Smith's jersey at Yarrow Stadium and head coach Steve Hansen could also give opportunities to Blues players Steven Luatua and Charles Piutau.
Ben Smith's move to centre from right wing would be taken with a view to the future - Conrad Smith's sabbatical means he will miss the All Blacks' European tour. Asked if it was a risk moving the in-form Highlanders player to a relatively unfamiliar position, Foster said: "We got told it was a risk playing him on the wing when he was a fullback but he's been pretty good on the wing the last two weeks. He's a well-rounded footballer and he'll deal with any challenges we give him."
Conrad Smith, who was born and raised in Taranaki, said he could understand the coaches trying someone else in the No13 jersey, even if it denied him playing his third test at Yarrow Stadium.
"He's a great player and I think everyone can see that. It would be a change for him but it's something he's dealt with in the past," he said of Ben Smith's qualities.
French pair Louis Picamoles and Freddie Michalak are heading hom due to their injuries suffered in Christchurch. With the prospect of more pain this weekend, some of their teammates might envy them.
- APNZ