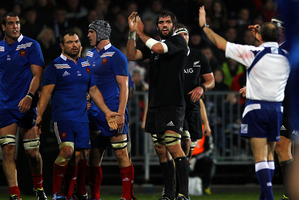 There was a try from the end of the world, a performance of promise from Aaron Cruden, a lift in performance from Israel Dagg and Julian Savea, but Sam Whitelock stole the show in Christchurch.
Something's happened with Whitelock this year: it has clicked in his head that he can dominate at the highest level. The same sort of epiphany supposedly came to former England and Lions captain Martin Johnson: he was a weedy, stick of a bloke until he came over here and Colin Meads explained it to him that it was okay to hurt people. He got it after that - leaving a trial of carnage wherever he went.
Whitelock is shaping as a Kiwi version of Johnson - supremely athletic and most importantly, bruising, intimidating, snarling and maybe a touch mental. The All Blacks didn't have much of that last year.
Brad Thorn and Jerome Kaino used to take care of all the enforcement duties and no one, not anyone with all their faculties, was going to inquire too hard whether their respective credentials as hard men held up to scrutiny.
But last year the All Black pack never carried that same edge: they were mobile, skilled and all the things modern coaches look for. But those with a more simplistic view of what test football is all about perhaps worried that the All Blacks could probably be bullied by a pack that could pluck up the courage to give it a go. Those fears were justified as England smacked the All Blacks about at Twickenham.
It's not so easy to believe they, or anyone else for that matter, will be able to do it now. Whitelock wouldn't stand for it. He gave the French a taste of what he's about these days: he clambered all over them at the lineout, sent them reeling in the collisions and wrapped up ball carriers, lifting them off their feet and keeping them off the ground. With the beard and the hair in need of a trim, he had that old school man of the land look - as if he had arrived at the game straight from afternoon milking.
The truth about genuinely hard men is that no one really enjoys playing against them: it's not so much the fear they create, but the feelings of inadequacy they induce in others. When someone such as Whitelock is throwing bodies about, roaring into contact and seemingly never hurting, it makes opponents question their own mental state; their willingness to die for the cause.
Whitelock was the man who did most to unsettle the French. Bigger challenges await, but no doubt, too, so do bigger performances.