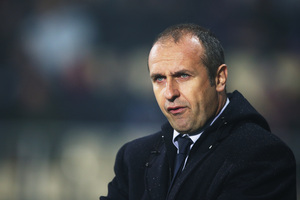 Last week France coach Philippe Saint-Andre had regrets. This time he has big problems.
Serious injuries to influential No8 Louis Picamoles and first-five Freddie Michalak in the 30-0 defeat by the All Blacks in Christchurch last night compounded what was a miserable occasion for Saint-Andre.
Afterwards he appeared shell-shocked as he faced the media. Asked if he had ever seen the former dashing France wing look so depressed, a travelling French journalist replied: "Yes, in the Six Nations."
Saint-Andre's team picked up the wooden spoon in that competition but losing in this fashion was extremely hard to take even if it might feel familiar. With Picamoles out with a serious leg injury - he was taken to hospital for an MRI scan after fears of a hip dislocation - and Michalak out with a dislocated shoulder, his task in New Plymouth next Saturday becomes a whole lot tougher.
Afterwards, Saint-Andre could only congratulate the All Blacks on their "clinical" display, adding by way of some comfort to himself, that other French teams could have lost by 50 points.
"They were clever, they just kicked and waited for mistakes," he said. "They stole our ball in the lineout. Our scrum was much better but our lineout in the first half was poor.
"They beat us in the kicking game and after we had an opportunity to come back, at 10-0 and [spending] five minutes in the 22m of New Zealand, we tried a dropped goal, turnover, 80m and 17-0 and game over. New Zealand was much better than us. We finished second but we can't give so many opportunities to a fantastic New Zealand side.
"The guys worked very hard for 80 minutes. A lot of French teams could have lost by 50 or more here.
"The urgency they [All Blacks] had in their defence was amazing."
Skipper Thierry Dusautoir said: "Obviously we are very disappointed about our performance, but we have to go on. It's true we have lost the series but we are here to play the All Blacks. We have learned a lot, I hope we will take this lesson and next week we will play a better game."
- APNZ