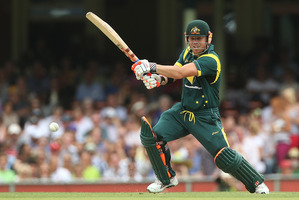 Cricket Australia has suspended opening batsman David Warner from playing at the Champions Trophy after his skirmish with England cricketer Joe Root in a Birmingham bar.
Warner took part in a disciplinary hearing via teleconference during which he pleaded guilty.
He was fined A$11,500 and will only be eligible to play again in the first Ashes test at Nottingham, starting July 10. His lack of match practice in the meantime will make it difficult for the selectors to choose him.
Warner was dropped but still carried drinks for his teammates during Wednesday's one-day international against New Zealand after it emerged he had thrown a punch at Root in Birmingham's Walkabout bar following England's victory over Australia last weekend.
The 26-year-old was found guilty of breaking Cricket Australia's code of conduct regarding "unbecoming behaviour".
It follows a fine of A$5750 last month for an abusive tweet exchange with two Australian journalists.
Compounding Australia's difficult Ashes build-up was the recent suspension of four players - including vice-captain Shane Watson - from a test against India for failing to complete a homework assignment.
Yesterday Australia's stand-in captain George Bailey defended Warner.
"From a team perspective, he took it on the chin, no pun intended. I really enjoy playing cricket with him, I love his energy and enthusiasm around the group and the way he plays; I wish I had the talent he does. He's a generous teammate, very giving."