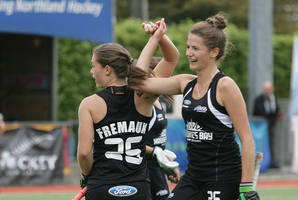 New Zealand coach Mark Hager wants more efficiency out of his attack after kicking off the World League semifinal tournament with a 7-0 dumping of India in Rotterdam.
While happy to have got under way on the right foot against the 12th-ranked Indians, Hager saw his side squander more attacking chances than he'd have liked.
The third-ranked Black Sticks had 15 shots on India's goal from 62 circle penetrations. On other days against tougher opponents, that could prove costly.
''We were okay, we weren't very clinical in the attacking third, just wasted a few opportunities and we've got to learn to be better than that against better opposition," Hager said.
That will happen early on Saturday morning (NZT) when New Zealand play the world No 5 Germans, who have won three and drawn one of their last four games against the Black Sticks.
Senior striker Katie Glynn scored twice, with other goals coming from Charlotte Harrison, Krystal Forgesson and Sian Fremeaux, along with two own goals by the hapless Indian defence.
New Zealand had a sloppy spell early in the second half, India hit a post and had a penalty corner before the game's normal transmission of waves of New Zealand attacks resumed.
There was the odd defensive slipup which would have been punished by better teams.
''Sometimes you get a little over-confident and a bit slack when you have that much attack and we got a bit lazy with some of our marking," Hager said.
He's also gearing up for playing the tournament without influential and experienced midfielder Stacey Michelsen, ruled out by a torn knee ligament.
''She's the backbone of the defence and attack and is so good with the ball and gives us go-forward play. It is a big hole but we've got to learn to cope without players like Stacey when these injuries happen."
Germany's leadup form has been ordinary. They've been tonked by the strong Dutch side 10-2 and 5-1 by Australia.
New Zealand's third group game is against world No 13 Belgium late on Sunday night (NZT).