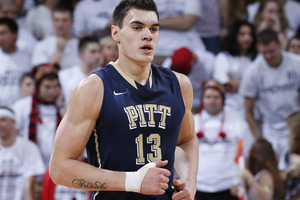 New Zealand teenager Steven Adams has been tipped by American website draftexpress.com to be a top ten pick in the NBA draft later this month.
In a mock first round, it was projected that the Pittsburgh Freshman would go to the Portland Trailblazers as the 10th pick of the NBA draft on June 28.
"Adams' main virtues as a NBA prospect continue to revolve heavily around his physical profile, as he has rare size, a strong frame, and excellent athleticism," draftexpress.com said in their mock draft.
"He runs the floor well, is extremely mobile, and has very good quickness for a player his height, also being capable of playing above the rim when called upon."
Late last month American magazine Sports Illustrated tipped Adams to go to the Boston Celtics with the 16th pick.
The NBA draft involves teams selecting a total of 60 players from a list of college stars and international prospects.
Generally the lowest-placed sides from the previous season get the first picks, though teams can trade their draft choices to move higher up the list.
The key for Adams is being a first-round top 30 pick. That would guarantee a salary of over US$1 million (last year's final first round pick earned US$850,00 ($1.05 million).
This year's draft is noticeably short on genuine star quality which may be another point in his favour.
If it eventuates, Adams would become the first New Zealander to be drafted in the first round and the third Kiwi to feature in the NBA.
Sean Marks was the 44th pick in the 1998 draft, while Kirk Penney was not selected from the 2003 draft but played briefly for the Heat, Clippers and Spurs.
-nzherald.co.nz