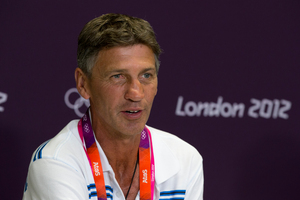 Points will be on leading New Zealand rider Andrew Nicholson's mind going into the four-star Luhmuhlen event starting in Germany tomorrow night.
The six-time Olympian is one of three of New Zealand's London bronze medal-winning team at Luhmuhlen, south of Hamburg.
Nicholson heads the FEI Classics standings, 13 points ahead of teammate and recent Badminton winner Jock Paget, who is one point ahead of top British rider William Fox-Pitt.
Nicholson is starting three horses, Qwanza, a 10-year-old mare in her second four-star start; Mr Cruise Control, who won the Chatsworth CIC three-star event recently; and Rathmoyle King.
Paget is riding Bullet Proof in his first four-star start, while Jonelle Richards has entered with her Olympic ride Flintstar.
Luhmuhlen is one of five events on the Classics calendar. Just two remain this year, Luhmuhlen and Burghley in Lincolnshire in September.
The Classics winner pockets US$150,000 ($190,000), with US$75,000 for second.
Nicholson and Paget have been outstanding in this Classics season.
Nicholson won at Pau in France last October on Nereo; Paget was second on Clifton Promise. Nicholson was first and third at Kentucky in April; Paget won Badminton in May, also on Promise, with Nicholson third on Nereo.
Equestrian Sports New Zealand High Performance director Sarah Harris is keen to see a continuation of four-star dominance from the New Zealand riders.
"That's our main goal as we head towards the world champs in France next year," she said. "The current form of our top riders clearly says we can do just that, too."
Luhmuhlen has attracted entries from all over the world, including Australia, Belgium, Denmark, Ecuador, France, Britain, Ireland, Italy, Japan, Lithuania, Poland, Spain, Sweden and the United States. Around 56 are entered in the four-star competition.
FEI standings
* Andrew Nicholson (NZ) - 40
* Jock Paget (NZ) - 27
* William Fox-Pitt (Britain) - 26
* Michael Jung (Germany) - 22
* Craig Barrett (Australia) - 15.