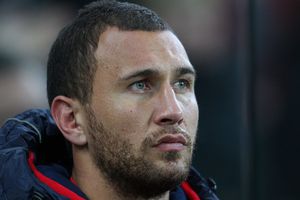 World Cup-winning Wallabies captain Nick Farr-Jones is hoping Quade Cooper revives his international career, but says the mercurial five-eighth is too much of a big-game flop to be thrown to the Lions.
Farr-Jones infamously dubbed Cooper a "boofhead'' during the 2011 Rugby World Cup and now says he understands why Robbie Deans overlooked the 25-year-old for a playmaking role for the three-Test series with the British and Irish Lions.
Farr-Jones, though, hasn't completely given up on Cooper, likening the Queensland Reds' x-factor star ``to an extent'' to the great David Campese.
"But Campo was far better in high-pressure matches. That's where Quade sort of in the last few years dropped his bundle,'' Farr-Jones told AAP.
"He goes well when things are going well in a Queensland team that is going forward and when he's got space.
"He's a great confidence player, but the pressure cooker of a big match where he doesn't have that space, he's struggled over the years and that's why I think Robbie has struggled to invest in him.
"Campo was different. Campo could be at his absolute best in the big-pressure games.''
Deans introduced Cooper to international rugby in 2008 and selected the New Zealand-born talent for a total of 38 Tests.
But Cooper has never really rediscovered his Test mojo since enduring a tumultuous World Cup in his native country two years ago.
At the time, Farr-Jones branded Cooper a boofhead for his running battle with All Blacks captain Richie McCaw.
Two years on and Australia's 1991 World Cup-winning skipper stands by his comments.
"One of the very important things when you're playing top-level sport is having respect for your opponents, and that comes in many ways,'' Farr-Jones said.
"I just thought what he was doing - the cheap shots on McCaw on the field - showed a total absence of respect.
"That's why you don't have to ask New Zealand to be Public Enemy No.1. You do that to their favoured man and their captain, and you show disrespect, you're looking for retribution.''
For all his misgivings about Cooper, Farr-Jones recognises the No.10 as a gifted talent and hopes to see him back in the Wallabies fold in the future.
"Because he's a terrific player and I'd love to see if he could still strut his stuff on the highest stage,'' Farr-Jones said.
Deans hasn't ruled out recalling Cooper during the Lions series should injuries strike his preferred playmakers James O'Connor, Kurtley Beale, Berrick Barnes and Christian Lealiifano.
-AAP