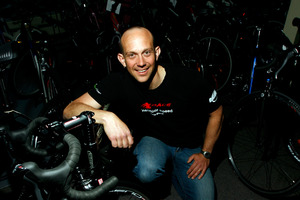 The man who helped put New Zealand track sprint cycling on the map has been snapped up by the French Cycling Federation to lead their sprint programme up to the next Olympics in Rio in 2016.
Justin Grace resigned from Bike New Zealand five weeks ago citing family reasons as well as issues around funding and support for the fledgling sprint programme. It was a role he was in for five years, and culminated in Simon van Velthooven's bronze medal in the kieran at last year's Olympics.
He will now lead one of the powerhouses of track cycling who have targeted two world champions in the next three years along with two Olympic gold medals out of the six available in Rio.
"I was so surprised,'' Grace told TV3. "It's France. And one of the biggest cycling nations. And for them to even show an interest in me was incredible.''
- APNZ