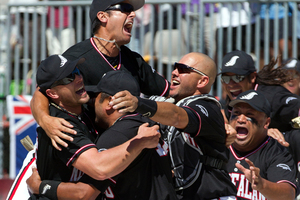 Softball great Mark Sorenson has been named as the new coach of the Black Sox.
Sorenson takes over from Eddie Kohlhase who stepped down from the role after winning the World Championships in March, having held the role for nine years.
Sorenson captained New Zealand from 1989 to 2001, and again in 2004, leading the Black Sox to three successive world championship wins.
His previous coaching experience has included a stint as Junior Black Sox coach.
"This is obviously a huge honour for me, one that comes with a lot of tradition and a lot of success," Sorenson said.
"That Black Sox tradition is important to me - I'm really passionate about what we have.
"A lot of sports would love to have 10 percent of what we have achieved over the years and now I have a chance to continue that."
Sorenson's immediate challenge is to marshal his troops for the next world championship in 2015, now that the international body has shortened the cycle to just two years.
- nzherald.co.nz