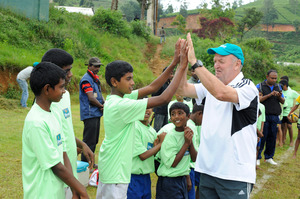 You could say this kind of coaching suits Sir Graham Henry to a T. Or should that be tea?
Henry, the former All Blacks coach, has taken advantage of a break in the Super Rugby programme to go to Sri Lanka and help coach coaches - and recently coached youngsters at Radella, where the rugby grounds are contained within a Dilmah tea plantation.
Henry started off in Kandy, watching the secondary schools rugby final before moving on to coach at Radella. Sri Lanka has a far greater rugby tradition than most know. Their club rugby was the first in Asia, dating back to 1879, just eight years after the founding of the world's first rugby union in England.
Sri Lanka takes its rugby seriously. Former England sevens star Ben Gollings takes the national sevens team and South Africa's Ravin Du Plessis the 15-aside team. They won Division One of the 2010 Asian tournament, beating Singapore and winning promotion to the 2011 Asian Five Nations Top Five.
They are still in the hunt for qualification to RWC 2015, last beating Kazakhstan 49-18 to win the HSBC Asian Five Nations title and promotion to the tier which will determine the Asia 1 qualifier for England 2015.