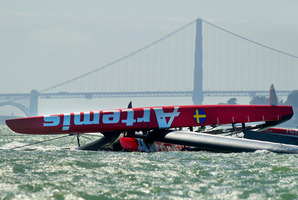 There is serious doubt over the viability of Artemis' plan to make a late entry to the Louis Vuitton Challenger series.
The Swedish syndicate has announced it'll still compete in the regatta, but won't have a boat ready to race until well after the series begins.
Artemis' campaign has been on the rocks since a fatal crash last month that wrecked their main AC 72 and killed sailor Andrew Simpson.
However, Artemis believes it can ready its second boat for racing by late July.
Yachting commentator Peter Montgomery says even that's a long shot.
"It really will be a stretch, they are pushing deadlines and there have been some serious moves coming from a variety that want to delay the whole cup.''
Racing officially begins on July 7.