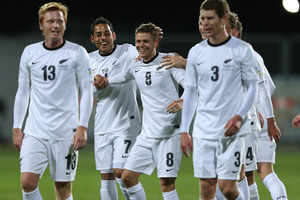 The All Whites were the biggest movers in the latest FIFA rankings released yesterday, moving up 30 places since May to be ranked 57th in the world.
Despite not playing a game since March, New Zealand has benefitted from other nations sliding backwards and now sit 10 spots off their highest ever ranking from August 2002.
New Zealand - who were ranked 130th in May last year - also now sit just 10 places below Australia, who are in the middle of a tough World Cup qualifying campaign in the Asian Football Confedration.
There was no change in the top four spots with Germany, Argentina and Croatia trailing Spain.
Five-time world champions Brazil hit a record low of 22nd, after stuttering to four draws in their last six games.
Oceania champions Tahiti will head for the Confederations Cup in Brazil later this month in 138th place after dropping three places.
-nzherald.co.nz