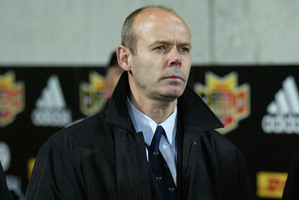 Former England boss Clive Woodward has warned that Australia may never host another Lions tour if it continues to treat the tourists with contempt.
The Lions faced an under-strength Force side last night in their first match in Australia.
Woodward, who coached the Lions touring New Zealand in 2005, wrote in the Daily Mail: "It is unacceptable and disgraceful to cobble together a weakened, second-string club team to play against some of the best players in the world on one of the great rugby tours ...
"Can you imagine Leicester inviting the All Blacks to Welford Road and putting out a second-string side? It simply would not happen.
"Treating the Lions with such contempt threatens to undermine their status in the global game.
"The Lions come to Australia once every 12 years but if this is how they are going to be treated in this country then they should seriously consider whether to return."
It's an issue that is set to simmer throughout the tour as Wallabies squad members have been made unavailable to play for their Super rugby teams in the tour matches against the Lions.
Force coach Michael Foley was placed in a tough position for his selection as his team also face a Super rugby match against the NSW Waratahs on Sunday.
The team he picked to face the Lions was missing a host of their best players including five-eighths Sias Ebersohn, fullback Jayden Hayward, prop Pek Cowan, in-form centre Kyle Godwin, hooker Heath Tessmann, lock Sam Wykes and winger Pat Dellit.
In addition, Nick Cummins and Ben McCalman couldn't be considered as they are in the Wallabies squad.
In their place are a host of uncapped players at Super rugby level, with most of those drafted into the squad from club ranks.
Foley defended his team selections, saying he had to juggle his squad to make sure he still had enough players for Sunday's encounter with the Waratahs in Perth.
- AAP