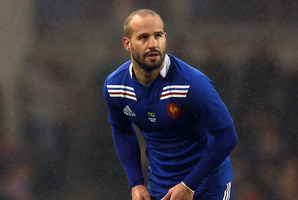 Freddie Michalak has unhappy memories of his last time in New Zealand.
Less than 12 months ago, Michalak was here playing for the Sharks in the Super Rugby final against the Chiefs, a match in which he scored his side's only points - two penalties - in the 37-6 hammering in Hamilton.
It was the denouement to a remarkable season for Michalak and the Sharks, who struck form late in the competition and spent the playoffs on the road - beating the Reds in Brisbane and Stormers in Cape Town before getting on yet another long-haul fight for what turned out to be an unsuccessful visit to Waikato Stadium.
After his second season with the Sharks he went back home to France and was an important member of the Toulon side which beat Castres recently to win the Heineken Cup. With Jonny Wilkinson in the team, 30-year-old Michalak has been playing halfback, rather than first-five, which is where Philippe Saint-Andre, the France coach, prefers him.
"I would like to play more at 10 for my club. But that's life," a philosophical Michalak said yesterday.
Whether he plays there against the All Blacks at Eden Park on Saturday remains to be seen. Michalak has been named on the reserves bench with Saint-Andre giving limited roles to the eight players who took part in the recent final in Paris and who arrived in Auckland only on Tuesday.
Saint-Andre has said the tour is a developmental one so he and France would probably be overjoyed to take a single test off the All Blacks. If so, next weekend's test in Christchurch could be a more realistic goal and Saint Andre would do well to study Ireland's tactics of last year when the visitors went extremely close to causing a huge upset at AMI Stadium, the second of three tests, but for Dan Carter's late drop goal.
Having endured a 24-hour trip with his teammates Mathieu Bastereaud and Maxime Mermoz, along with Castres colleagues Remi Tales, Brice Dulin, Marc Andreu, Christophe Samson and Antonie Claassen, Michalak looks like he could do with getting used to the local time zone.
For the Frenchman, who spent extra time at North Harbour Stadium yesterday working on his goalkicking, the prospect of Aaron Cruden playing ahead of the injured Carter was not a comforting thought given his experience of last year when the Chiefs first-five finished off his excellent domestic season in style.
"I know him well," Michalak said. "He's a very good player, one of the best fly-halves in the world with Dan. I can't see a difference with him there."
Hulking midfielder Bastereaud, who has returned to New Zealand for the first time since his controversial visit with France in 2009 - which culminated in him reporting a false complaint of assault in Wellington with resulting fall-out from the highest level - had similar feelings about Cruden's capabilities. "He has very good skills and is very clever," he said.
Like Michalak, who was not wanted under former France coach Marc Lievremont, 24-year-old Bastereaud is back in favour under Saint-Andre, and has undergone a transformation since that fateful night in the capital. Bastereaud is also hoping things turn out differently in New Zealand this time.
"I would like to apologise to all the people and the city of Wellington," he said. "I have grown up a lot."
France: Yoann Huget, Adrien Plante, Florian Fritz, Wesley Fofana, Maxime Medard, Camille Lopez, Maxime Machenaud, Louis Picamoles, Fulgence Ouedraogo, Thierry Dusautoir (c), Yoann Maestri, Sebastien Vahaamahina, Luc Ducalcon, Dimitri Szarzewski, Thomas Domingo. Reserves: Guilhem Guirado, Vincent Debaty, Daniel Kotze, Alexandre Flanquart, Yannick Nyanga, Jean-Marc Doussain, Frederic Michalak, Maxime Mermoz.
- APNZ