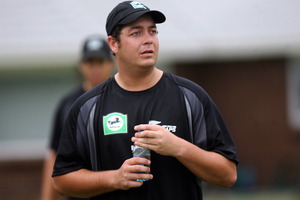 A man who admitted assaulting cricket star Jesse Ryder has had his sentencing delayed until his co-accused's trial has concluded.
Two men, aged 20 and 37, both with name suppression, have been charged with assaulting 28-year-old Ryder outside a Christchurch bar on March 28.
Ryder suffered a head injury and spent two days in an induced coma at Christchurch Hospital.
A 20-year-old carpet layer who pleaded guilty to one charge of assault last month appeared at Christchurch District Court today for a disputed facts hearing.
Defence counsel Adam Couchman said he admitted the police statement of facts but would want to be heard on a number of mitigating factors before his client was sentenced.
He said it would make sense for his client's sentencing to be delayed until the 37-year-old co-accused's trial was completed.
The judge of that trial would then know the facts of the alleged incident and then be able to sentence the 20-year-old, the court was told.
The 37-year-old builder has elected trial by jury and has a post-committal conference date scheduled for June 21.
The younger co-accused had his case remanded until that date, where his appearance was excused.
- APNZ