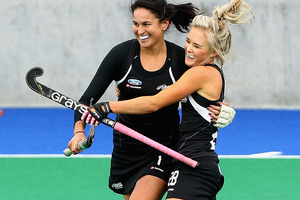 The women's Black Sticks have drawn the first of three practice matches with England 4-4, ahead of the World League 3 tournament in Rotterdam this month.
The game, which doesn't count as a full international, was played in hot, sunny conditions at England's national sports centre in Bisham Abbey, Berkshire. New Zealand's goals came from an own goal, Kayla Sharland, Charlotte Harrison and Krystal Forgesson.
At the end of the warmup game, the teams had a penalty shootout, which New Zealand won. The second game of the three will being played early tomorrow.