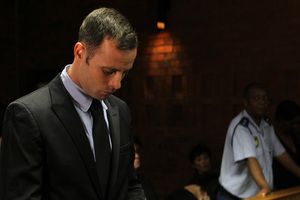 Oscar Pistorius' court hearing was adjourned until August 19 after a brief appearance last night in which the magistrate railed against media coverage of his case.
The double-amputee Olympian is charged with killing his girlfriend on Valentine's Day.
The prosecution at the Pretoria Magistrates Court requested a postponement for further investigation, and the magistrate approved the request. The National Prosecuting Authority said it hoped the trial would start before the end of the year.
Pistorius, 26, wearing a dark suit and staring straight ahead with his hands clasped together in front of him, spoke just once. "Yes, your honour," he said after Magistrate Daniel Thulare asked him if he understood that he was released on the same bail conditions.
Pistorius has said he killed Reeva Steenkamp by mistake, believing she was an intruder in his home. Prosecutors say he killed her after an argument.
Thulare attacked media coverage of the case saying: "It would appear some of the activities may amount, if not to scandalising the court system in the republic, then to contempt."
He added: "Just like any other literate South African I also read newspapers. It would appear there is somewhat a trial by the media houses."
Last week Sky News revealed graphic pictures that purport to show the blood-spattered bathroom shooting scene.
Pistorius' lawyer Brian Webber described media coverage as "grossly over the top and absolutely disproportionate".
Earlier yesterday the mother of Reeva Steenkamp said she had threatened Oscar Pistorius when her daughter telephoned her from his car to complain that he was "driving like a lunatic".
June Steenkamp appeared on a documentary screened on Channel 5 in Britain yesterday in which she recalled the conversation from the car phone. "She was afraid, she was so afraid. I said, 'Will you just give him the phone'. She gave the phone to Oscar straight away. I said, 'Listen, if you hurt my baby in any way I will have you wiped out'."
June Steenkamp said that after the incident, her daughter had phoned her again and had spoken about rows with Pistorius, whom she had been dating since November last year. "She said, 'We've been fighting; we've been fighting a lot'. She didn't elaborate about what they'd been fighting about," Steenkamp disclosed in the documentary, Why Did Oscar Pistorius Kill Our Daughter? produced by Shekhar Bhatia.
Gwyn Guscott, a friend of Reeva Steenkamp, told the documentary that the couple had argued. "I don't know who started the argument but I do recall her saying to me, 'I'm not a person that likes arguments so I walk away, so I left and I took two days to cool off and then I tried to patch things up'," she said.
June Steenkamp also revealed that in her younger years, her daughter had painted a picture of a man with a gun threatening a "terrified" woman with angel wings and a ladder beside her "going up to heaven".
"Reeva painted these pictures when she was 14 ... but we never really realised what they were about. If you look at it now it's clear as anything that this is a premonition."
Pistorius' uncle Arnold said the athlete still felt a "deep, deep sorrow" and cried when recalling what happened. His bedroom walls were adorned with pictures of Reeva Steenkamp, he said, and he was spending his time reading the Bible, praying, speaking to a counsellor and working out. "He is battling, he is having a tough time and will never be the same," he told South Africa's Carte Blanche news programme.
He said Pistorius was adamant that he was innocent, and his family still believed him.
"The action he took was to protect and now you can imagine the person you love the most and you are the instrument of her death - it's unthinkable. I have no doubt in my mind that he is not a murderer."