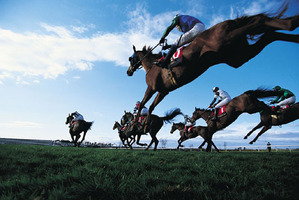 David Butcher had no concerns about his form for the World Driving Championships as he hopped on the plane last night.
The leading horseman dominated his final day of driving in New Zealand for seven weeks with a five-win bag at yesterday's rain-soaked Cambridge meeting.
Just three days after riding legend Noel Harris grabbed a five-win haul at Ellerslie, Butcher produced a display to all but rival the wonder jockey.
From eight drives he not only won five but was beaten a nose in another and could hardly have done more to get his other two drives home but they were just not good enough.
So Butcher left last night feeling good about next week's World Driving champs in France.
"I can't wait," he told the Herald.
"This will be something completely different for me as I have never even been to Europe, let alone driven there.
"We are having a few days in London then head to Paris on the weekend and start the series on Sunday."
The series, bringing together some of the best drivers in the world, is over 20 races based at five tracks around France, culminating at the famous Vincennes track outside Paris.
Butcher says he has driven five winners in a day "either three or four time" in the past.
"I remember doing it at Rotorua, once here at Cambridge and, I think, maybe once at Manawatu. But it is a nice way to leave and I will be back in the country on July 24 so you won't see me until almost next season."
Butcher could be tempted to return to driving for the last northern meeting of the season as he leaves on 98 winners, so could reach the 100 with a few more drives.
He trails Dexter Dunn and Ricky May in the premiership.