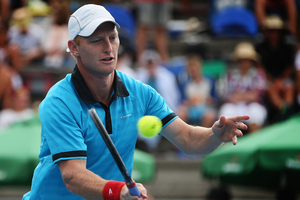 New Zealander Dan King-Turner has announced his retirement from the professional tennis circuit.
The 29-year-old reached a career high singles ranking of 217 in July 2010 and in doubles was ranked 182 in 2008. He is presently ranked 501 in the world and made US$175,473 in prizemoney throughout his career.
He said that after a number of years on the circuit it was now time to try other things in life but that he was able to pursue his dream and play professional tennis as well as represent New Zealand in Davis Cup.
"I've had some amazing experiences as a result of playing pro tennis,'' he said. "I've done things that are basically a dream come true. Of course you want to get your ranking higher and win bigger events but, in truth, I did the best I could and retire with no regrets. As long as you can give it your best, then there's not much more which can be asked.''
King-Turner won eight Futures singles titles as well as two Challenger doubles titles and 10 Futures doubles titles. He also made the semifinals of two Challenger events.
He has a Davis Cup singles and doubles record of 24 wins and 17 losses since first playing for New Zealand against Kuwait in 2005.
He intends to take some time out to look at options, and might study e-commerce.
- APNZ