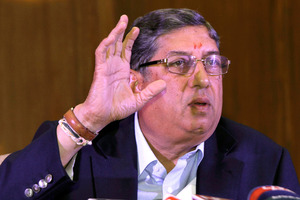 India's cricket chief has defied calls to quit over a betting scandal in Indian Premier League competition but agreed to step aside to allow an investigation to take place, the board announced.
The move, a compromise negotiated by Narayanaswami Srinivasan at an emergency meeting, appeared unlikely to quell the controversy which has seen the country's sports ministry call for his resignation.
Srinivasan's son-in-law Gurunath Meiyappan was arrested on May 24 for allegedly taking part in illegal betting on the IPL.
Meiyappan is a business executive for the Chennai Super Kings, which is owned by 68-year-old businessman Srinivasan, who has headed the Board of Control for Cricket in India (BCCI) since 2011.
"Mr N. Srinivasan announced that he will not discharge his duties as the president of the board till such time that the probe is completed," said a statement after the meeting.
It said Jagmohan Dalmiya, a controversial former president of the BCCI from 2001-2004, "will conduct the day-to-day affairs of the board" during Srinivasan's absence.
The BCCI met yesterday amid growing rancour among the 31-member body and a series of resignations, including the secretary, the treasurer and the chairman of the IPL, Rajeev Shukla.
Srinivasan described his decision to step aside "an extraordinarily fair step", saying the meeting was smooth and free from acrimony.
"After discussions, I announced I will not discharge my functions until the probe is completed. The decision was well received," he said.
A BCCI official who did not want to be named contradicted this, saying the decision was not unanimous.
The arrest of Srinivasan's son-in-law came after test paceman Shanthakumaran Sreesanth and two teammates in the IPL's Rajasthan Royals - Ankeet Chavan and Ajit Chandila - were taken into custody.
Police allege the players deliberately bowled badly in exchange for tens of thousands of dollars after striking deals with bookmakers.
Meiyappan is being investigated for allegedly passing information to bookies and placing bets on the IPL. Srinivasan can only be impeached if three-quarters of the BCCI board vote against him.
- AFP