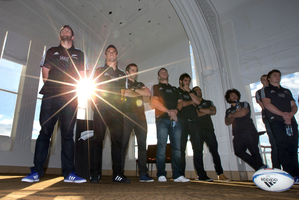 It has been called the second most important job in New Zealand after the Prime Minister.
Kieran Read prefers to say it is "one of the most important roles in New Zealand sport". Either way, the new All Black captain is preparing for an increase in pressure over the next month.
The handing of Richie McCaw's role to Read was talked about almost as soon as the skipper announced last year he was taking a break from the game until next month.
Read, the Crusaders captain in McCaw's absence, is one of the first names on the All Blacks' team list. He is one of the best players in the world and probably the best No8; a consistently excellent operator with a physical edge the All Blacks have relied on time and again in the absence of blindside flanker Jerome Kaino, their former hitman.
The 27-year-old Read, who has 48 test caps after making his debut in 2008, has matured into an excellent captain at his franchise.
He has a quiet manner which earns respect - an important commodity when dealing with international referees and something of a speciality for McCaw.
"It's not something you think you're ever going to attain in your rugby career," Read said. "It's certainly amazing, and a great feeling.
"It was probably a couple of weeks ago that [coach Steve Hansen] told me I was going to be the one leading the team. There's a leadership group there; we knew it [the captain] was going to come out of that. The group that we have there is still going to do what they've done for the past few years and I guess I'm the one with the 'c' next to my name. The responsibility is to really step up and lead this side really well."
Asked about the pressures that go with the role, Read said: "I think it will be tough because I haven't experienced it yet. Certainly, you can probably tell there's a bit of pressure there and it's probably one of the most important roles in New Zealand sport and I'll find out in the next few weeks."
Read, whose head knock and sore shoulder meant he didn't play in the second half of the Crusaders' 23-22 win over the Waratahs, said he would be fine this week.
As for whether McCaw had given him any advice, Read said: "Not too much, he's left me to do my thing."
Hansen insisted Read wasn't the only potential captain the selectors looked at: "We considered a whole lot of people," he said. "But ... we felt he had the necessary attributes and character that we were looking for."
- APNZ