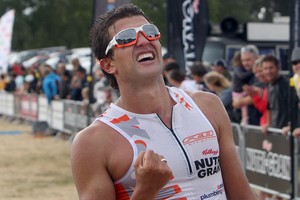 New Zealand triathlete Terenzo Bozzone has had to settle for second at the Long Distance Triathlon World Championship in France.
Bozzone has crossed the line in four hours and 10 minutes, two minutes behind Frenchman Bertrand Billard.
Nicky Samuels gamble on the bike has failed to pay off at the latest ITU World Series event in Madrid.
Samuels made a break on the bike, before being hauled in early on the run and having to settle for 15th.
"You try these things a hundred times, and one time out a hundred they might work and the others they won't.
"So maybe next time.''
Samuels emerged from the water in a lead group and established a two person break on the bike with American Sarah Groff.
But with just the two of them, she says they could never stretch their lead to more than 30 seconds.
"After the first two I turned around and there were only three of us left, and it was kind of just Sarah and I because the Italian girl was just hanging off the back for dear life.
"I think we just needed another athlete or two that was stronger to try and stay away.''
Samuels was the best of the Kiwis, with Andrea Hewitt the next best back in 29th.