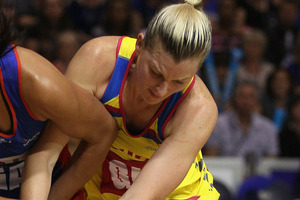 Katrina Grant has had to use only half of her shoe collection for the past month.
Since late April the Central Pulse captain has been consigned to a moon boot six days a week as she manages an injury to her right foot.
She's not allowed to use the term "stress fracture'' but once a week she's allowed to be free of the burden.
"Six days a week I'm in my boot then on game day it's quite good because even going to breakfast I don't have to put it on, so it's quite exciting,'' she said.
This has created a wardrobe dilemma for the 26-year-old, given the moon boot isn't a sought-after fashion item.
"It is really funny because all the shoes I've used in the last four weeks are just all my left shoes. So I've just left them lined up because I don't have to grab two of them, do I? The boot doesn't go with a heck of a lot.''
Grant had been diagnosed with a stress fracture three times before and when her right foot began to trouble her recently, she knew what the news from the doctor would be.
"It just pretty much came on and I knew what it was as soon as the pain was there.''
She tried training once in the past month but the pain was too great so the goal keep has been limited in her activity then suits up and delivers on match day. Her foot is steadily improving and she doesn't expect to miss any of the Silver Ferns' fixtures this year.
Sitting out from training hasn't hindered Grant, who has been in career-best form for the resurgent Pulse in recent weeks.
The Silver Fern is third in the ANZ Championship for deflections and interceptions - useful indicators of how a defender is performing - and has kept a lid on opposition shooters.
Grant's efforts have coincided with a two-match winning run, which the Pulse will be looking to add to on Monday night when they face the Canterbury Tactix in Christchurch.
There has been little to celebrate from a netball perspective in Canterbury this year with only two wins from nine games and the Pulse should be able to find a way past Leigh Gibbs' side.
The Pulse, who are sixth on the ladder, were handy against the West Coast Fever last Sunday as they recorded a 53-52 win, which kept their playoff hopes alive.
"The girls are lifting because we know it's a final every week,'' she said.
The Pulse have never won more than five games in a season and, if they triumph on Monday, it will be their sixth victory of 2013 and will also mark only the second time in franchise history they have produced a three-match winning streak.
"This year just seems to be a history-making one for the Pulse, which is good but I don't want to make any history if we don't make the top four,'' Grant said.
If they qualify for the playoffs, it will be all the more impressive given Grant will have carried them there on one foot.
- APNZ