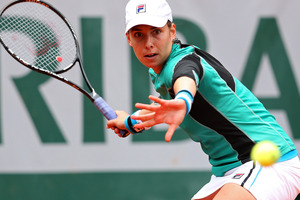 Marina Erakovic made a conscious decision recently to be more aggressive on court, and it goes a long way to explaining her varying results over the few months.
Last night she progressed to the third round of the French Open when she upset 16th seen Dominika Cibulkova of Slovakia 6-2 2-6 6-4 and it was her positive intent which proved one of the decisive factors. It also helped her claim her first WTA title in Memphis in February.
Contrasting with that, however, is the fact she won only one of seven singles matches on her way to Roland Garros which dented her confidence and saw her drop to 92 in the rankings.
Her win over Cibulkova, which officially took two hours and 38 minutes but lasted more than five hours because of two rain delays, was her best result at a grand slam event and arguably the next best in her career behind her win over then world No 4 Victoria Azarenka in 2011.
"Relief, happiness, just very pumped,'' Erakovic told Newstalk ZB trying to describe her emotions afterwards. "I had some good support in the crowd, which was great. It was just a good feeling.''
There's little doubt she's been helped by a favourable draw, which saw her open up against Great Britain's Elena Baltacha who was playing her first tournament since last year's Olympics. Cibulkova has also struggled this year to recapture the sort of form that saw her progress to the semifinals of the French Open in 2009.
Erakovic will now take on 17th seed Sloane Stephens, but the American is not a player Erakovic should fear. That might change if she somehow manages to advance to the fourth round where a potential date with world No 2 and four-time grand slam winner Maria Sharapova awaits.
Stephens famously ousted Serena Williams on the way to the semifinals at this year's Australian Open and beat compatriot Vania King 6-1 6-3 in her second-round match. She reached the fourth round at last year's French Open and hits a flat ball, which Erakovic likes.
"I give Marina every chance of winning that,'' said Belinda Cordwell who was ranked No 17 in 1989. ``Sloane isn't a top-five, top-10 player who are, week in week out, in a different league.
"Marina is a confidence player. She's clearly capable of a high level of tennis after winning her first title.
"I noticed about two or three years ago all the players talked about `ripping the ball' and Marina is in that camp. The difference is keeping the unforced errors down and that's something players ranked in the 30s and onwards are grappling with. They all have the ability to hit their shots but the ones in the higher echelon can balance that without making too many errors. That's something Marina is still coming to grips with.''
Erakovic hit 38 winners to Cibulkova's 17, including two big forehands to close out the match, but that was countered by 71 unforced errors. She admitted she was too passive in the second set, which quickly passed her by, before going back to a more aggressive approach even when nerves kicked in during the deciding set.
"I'm working really hard and trying to play well and hopefully I can keep hitting the big forehands and serves and play well and do some more damage,'' she said.
Erakovic is already guaranteed to take home $97,000 in prizemoney and she becomes the first New Zealand woman to reach the third round at the French Open and equals her best performance at a grand slam after reaching the third round in Wimbledon, also in 2008.
- APNZ