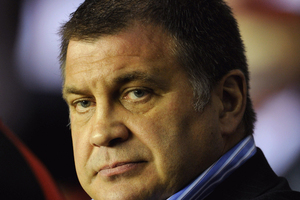 The Warriors have moved quickly to quash rumours that Wigan's Shaun Wane is to take over coaching duties from Matt Elliott in 2015.
Reports from England today suggested that plans were in place for Elliott to assume a director of football role, while Wane would take over as head coach.
Warriors CEO Wayne Scurrah said there was absolutely no substance to the story and remains committed to Elliott whose contract runs through to 2015.
"We are not looking for a coach and we have other announcements coming up that will show we are not looking for another coach," Scurrah said today.
"We had a board meeting this week and Matt has nothing but support in everything he is doing. We know what he's trying to do and are 100% behind it."
The Sun newspaper reported that plans were in place to have Wane work alongside Elliott and learn the ropes in the NRL before taking over and reported that his wife had already flown to Auckland to look around.
- APNZ