Flanker's contribution will be vital as Blues strive to be in contention for top six.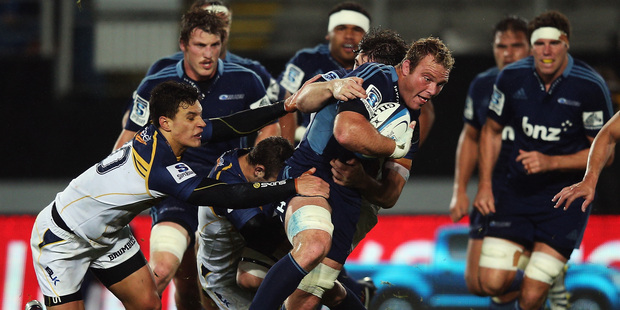 Scans have cleared impressive Blues flanker Luke Braid for his side's return duel with the Highlanders.
The breakaway was hurt during training early in the week but after some treatment and tests, the all-clear verdict yesterday allowed his selection bracket with Brendon O'Connor to be lifted.
Braid is a vital part of the side with his consistent play and leadership a boost for the Blues in their first season under their new coaching setup.
Braid, aspiring All Black Steven Luatua and Peter Saili have been reliable contributors in a pack working hard to lift their levels under Mick Byrne's tutelage.
Loose forward is one area of tomorrow's match in Dunedin where the Blues will hope for an edge in a Super 15 match they have to win if they want to continue their push for a place in the playoffs.
Former Highlander Chris Noakes will not be travelling south to duel with his former teammates.
The five-eighths has been a steady director this season for the Blues but will stay in Auckland to help care for his mother.
So Baden Kerr will start and his performance as the director of a young backline will be measured keenly in the dry conditions in the covered stadium.
Those conditions should suit the Blues, who need a repeat victory against the Highlanders after stumbling in their last two matches.
They also need to find a balance to their game between all-out attack and signing off on the fundamentals.
"For us it is a matter of getting back on the horse, we need to turn up and be ready to play," coach John Kirwan said.
"The Highlanders have just been missing but they can make their season by beating us."
The Blues have one more change in the backline with George Moala replaced by Waisake Naholo on the left wing.
Moala missed a team rehab and promotions session this week and while Kirwan said that had been dealt with by a team fine, it appears this may be additional punishment.
Former All Black lock Anthony Boric has been picked to link with captain Ali Williams and James Parsons will start at hooker because Keven Mealamu missed all the training sessions while he was with the All Black group at Mt Maunganui.
Parsons' attendance at practice helped weld the set piece organisation and team patterns.
"We have to put our season back on track, get back on the points table and stay in touch," said Kirwan. "If we do that this weekend then we are back in contention for top six.
"For me, you know, you get down there and just explode or try and do that, express ourselves and get back into some good old Blues-style footy."
He said the Blues had responded well to the coaching staff who wanted them to understand how to deliver strangling rugby. It was not in their DNA but they were making progress.