Blues reminded of last Highlander fling and the threat the southern men pose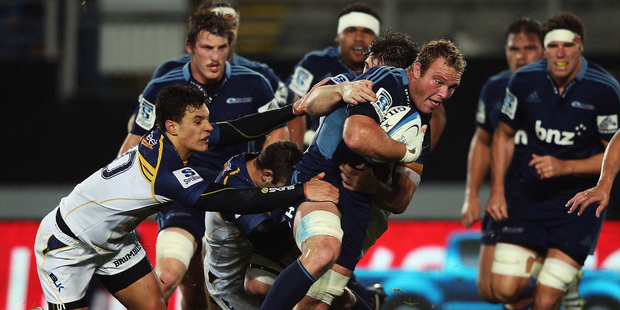 Usually the Blues gather early in the week to dissect video clips, review their last game and wade through ideas for their next match.
Players, coaches, trainers and other franchise staff congregate to swap ideas, talk through their concepts and debate tactics for their Super 15 targets.
It was not the same this week, not after the painful loss to the Brumbies.
Staff were asked to leave before captain Ali Williams and leader Luke Braid addressed their troops about the ailments and the remedies needed tomorrow at the Forsyth Barr Stadium in Dunedin.
There was nothing like the blistering oratory coach Sir John Kirwan delivered during and after the loss to the Brumbies.
However, there were reminders about the players' obligations as professionals and their duties to the Blues, their staff and their fans.
The language was direct, the dialogue brief.
"We brought up that this season has gone pretty fast and we enjoy each others' company and enjoy playing together," said Braid.
"We did not want to end up looking back at the season and say we should have pulled things together at this point and gone further.
"If we want to stay together longer, we have to create that situation by making the playoffs and that starts with our match against the Highlanders."
The Blues' foes have flat-lined at the bottom of the table.
One win and a points differential of -108 is pretty damning for the Highlanders, especially for a side with a cluster of prospective All Blacks called to the training camps.
For all their alleged pedigree, the work of their pack has been modest and with those hiccups and misfiring halves, there has been a harmful ripple effect through the backline.
Fullback Ben Smith has brought regular quality, Hosea Gear did earlier in the year and Tamati Ellison showed what might have been.
But there have been splutters from an ailing Ma'a Nonu, wild form curves from Colin Slade and inconsistency from Aaron Smith.
They were already in deep trouble by round six when they came to Eden Park and fell 29-18 to the Blues, who pulled away in the last quarter.
Skipper Andrew Hore was talking about his players not looking at their own deficiencies and fixing them. The faults continue.
That was after an April evening when the Blues dithered for a while but hung tough.
That game was at a similar crucial juncture as tomorrow's match.
The Blues had lost three on the bounce and were staggering.
Once again they are in a similar position. They have won six and lost six and sit on the cusp of a place in the playoffs. Defeat tomorrow might quell that target, victory will offer some respite before the strange June intermission and their trip to South Africa.
"Sides all have difficult patches in this series," said Braid," but this week for a number of reasons is critical for us and our season.
"It is massive and we have to turn our fortunes around. Victory will give us back some precious momentum."
The Highlanders may inhabit the bottom of the rugby well but will bring more threats than the Brumbies' safe solid, steady patterns last round at Eden Park.
For their part the Blues need to show they are smarter rugby players than they have been in recent matches when they veered away from strong, solid instructions from their quality staff.
The Highlanders will try to light those fires of uncertainty under their visitors.
They will have compared themselves up close to some of the Blues at the national training camp this week in Mt Maunganui, and will know this is a golden chance to show their fans and the All Black panel they can still cut it at the top level.