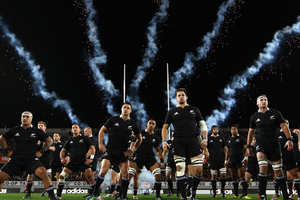 The New Zealand Rugby Union has confirmed it is in negotiations for the All Blacks to play Japan on their way to Europe this year.
Chief executive Steve Tew said today the organisation was "considering the value of another test this year as part of a much wider strategy focusing on the team's development heading towards 2015.
"As a result we have been exploring an option with the Japan Rugby Football Union for the All Blacks selected for the Air New Zealand European tour to play Japan en route to Europe.
"There is nothing to confirm at this stage and discussions are continuing.
"If we reach agreement, we see this as a very positive opportunity for the younger players in the squad as the All Blacks build for the future.

"This is driven entirely by rugby reasons to meet the development needs of the team.
"This is also quite different from an extra European test. We are very mindful of the burdens on players.
"We made it clear earlier this year that we did not want to put the All Blacks under the pressure of an additional European test so nothing changes in that regard.''
Last year following the All Blacks loss to England at Twickenham, the team's fourth test of the tour, coach Steve Hansen was keen to play only three tests this November. They will play France in Paris, Ireland in Dublin and England in London.
The NZRU was keen to stress that the test against Japan, if it goes ahead, will not be played for revenue-gathering purposes, but for developmental ones.
It is understood most of the younger players would get a run, with the more experienced players travelling straight to Paris.
The All Blacks have played Japan only twice in tests, both times in World Cups. In Hamilton in 2011, the All Blacks won their pool game against the Cherry Blossoms 83-7 and in South Africa during the 1995 tournament, the All Blacks triumphed 145-17.
The All Blacks played two matches in Japan in 1987 but they weren't given full test status.
- APNZ