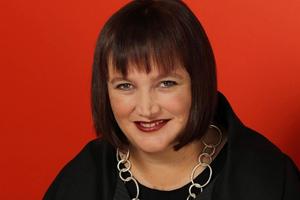 Netball New Zealand chief executive Raelene Castle. Photo / Supplied
Netball New Zealand chief executive Raelene Castle has been confirmed as the new chief executive of the Bulldogs rugby league outfit, becoming the first female boss of a club since the NRL was formed in 1998.
Another New Zealander, Liz Dawson, was the chief executive of the Adelaide Rams during the Super League era.
Castle brings to the job a strong rugby league pedigree with her father Bruce Castle having captained New Zealand against Australia in the 1960s.
"I have grown up with rugby league,'' Castle said in a statement. "I believe my appreciation of its history and the importance of the game to the Australian sporting landscape will be an excellent platform for the business acumen I bring to this role.
"The strong governance, sound financial standing, alongside the priority the Bulldogs place on community engagement provide with me an excellent opportunity to continue the substantial growth the business has shown in recent times.
"I am excited for the opportunities ahead for this club and for rugby league and I will look to continue a Bulldogs tradition of innovation and strong leadership to ensure we can make the most of them.''
Castle has been Netball New Zealand chief executive since 2007 and is often referred to as the most influential woman in New Zealand sport. She's also held senior positions with BNZ, Southern Cross Healthcare, Fuji Xerox and Telecom and worked on the sponsorship of the Rugby World Cup and Olympic and Commonwealth Games Association as well as helped market the 2000 America's Cup.
Presently, 19 women occupy senior management or board positions at NRL clubs.
Castle starts the new role on July 15.
Bulldogs chairman Ray Dib said her appointment was a major coup for the club.
"Raelene was the standout applicant from a list of high quality candidates made up of sporting and business leaders from around the world,'' Dib said. "Her combination of business and marketing acumen coupled with her experience with high performance athletes was unrivalled.
"Under Raelene's leadership the Bulldogs can move forward into a new era with great confidence.
"It is also a watershed moment for the Bulldogs with the appointment of our first female chief executive and we're delighted to welcome Raelene to the club.''
The Bulldogs, established in 1935, are one of the older clubs in the competition, having won eight Premierships with the last coming in 2004.
However, the club have made headlines for a number of off-field incidents over the past decade. The Bulldogs were docked 37 points for breaking the salary cap in 2002, while Dally M winner Ben Barba was stood down indefinitely over gambling and alcohol issues earlier this season. Team members were also alleged to have verbally abused a female television reporter on Mad Monday last season.
Castle's appointment means Netball New Zealand will begin their search for a new chief executive. During her six year tenure, Netball New Zealand's profile has grown exponentially and the organisations commercial revenue through broadcast and sponsorship has increased by more than 66 per cent.
She ushered in a structural change that saw NNZ establish five zones.
"Raelene has made a huge contribution leading the team that has significantly grown one of New Zealand's leading sporting organisations and also seen successful Silver Ferns performances with a highlight being the Delhi Commonwealth Games Gold medal,'' chairwoman Raewyn Lovett said.
"NNZ has a strengthened brand, a committed family of sponsors and broadcast partners. Her enormous energy, passion and commitment to excellence will be missed by us all.''
Castle was heavily involved in the establishment and delivery of the ANZ Championship transtasman netball competition and led the negotiations in securing the multi-million dollar naming rights sponsorship.
"This has been a very difficult decision for me as I have loved every minute of my time at netball and I believe it's the right time for the organisation to have a new leader,'' Castle said. "I am proud of what we have achieved over the last six years and I look forward to seeing netball's continued growth and success in the future.''
- APNZ