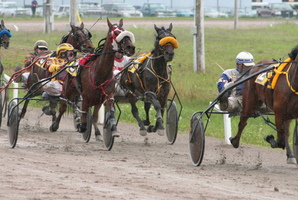 A shoeing change could work the oracle for Escapee in her division of Saturday's Jewels at Ashburton.
The speed-freak trotting mare is the greatest form puzzle of Jewels Day, having not raced here since January and failing to impress at last Saturday's pre-Jewels workouts.
Escapee was trotting well until the pressure went on in her workout and she trotted roughly, struggling into fourth.
That mirrored a private workout last Thursday and convinced trainer Mark Purdon to change her shoeing angles yesterday.
"I worked her after that and she trotted better," said Purdon.
"So I think she will go into Saturday ready to win, provided she does everything right."
The second half of that sentence is necessary because while Escapee may be our fastest trotter she is also the most erratic of our trotting elite.
She can be brilliant from the gate, which will help from barrier one on Saturday, but when she gallops she can completely throw her toys.
Any such mental frailties will be punished on Saturday as her 4-year-old trot division contains some serious open-class players in Stent, Flying Isa, Realmein and Master Lavros.
Master Lavros was disappointing at the workouts on Saturday though and doesn't look ideally suited to the mile trip.
Escapee is the $2.20 favourite with the TAB, which is way too short, although Purdon clearly rates her a better chance than stablemate Cyclone U Bolt (to be driven by Blair Orange), who won last year's 3-year-old trot division.