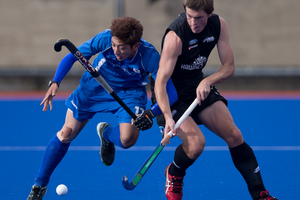 A blend of youth and experience make up New Zealand's men's hockey team for their World League semifinal tournament in Rotterdam next month.
Eight of the squad of 18 are Olympians, the group having been finalised at the end of New Zealand's six-test series against Korea, which ended last week.
Seven players have less than 20 caps, including Junior World Cup quad players George Muir, Jared Panchia and Kane Russell.
''Those three players had strong performances during the Korean series and I think they have real potential," coach Colin Batch said.
"We are spending a week in Europe before the World League starts, working on our attacking and defensive structures, this will be invaluable.".
Two experienced players, Simon Child and Brad Shaw, have both made themselves unavailable for the World League, opting to take time out from the national side.
The World League is the new qualification tournament with the top three automatically qualifying for the 2014 World Cup in India.
World No 6 New Zealand are in pool B and will face the Netherlands, Ireland and India in pool play. Australia, Spain, Belgium are confirmed to play in Pool A, with the fourth team still to be finalised.
The tournament runs from June 13-23.
New Zealand squad:
Goalkeepers: Hamish McGregor (Southern), Devon Manchester (Auckland)
Defenders: Cory Bennett (North Harbour), Nick Haig (Canterbury), Dean Couzins, Alex Shaw (Auckland), Andy Hayward (Midlands), Kane Russell (Southern).
Midfielders: Blair Hilton (Capital), Marcus Child, Arun Panchia (Auckland), Shay Neal (Northland), George Muir (North Harbour), Shea McAleese (Central).
Strikers: Stephen Jenness, Phil Burrows (Capital), Hugo Inglis (Southern),Jared Panchia (Auckland).